Be Prepared for Your Child's Special Education Meeting
|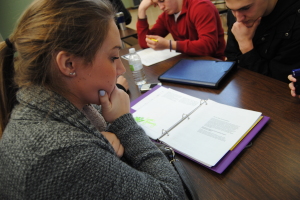 Are you prepared for your IEP or school meeting to discuss your 
child? 
Five Tips To Remember: 
1) Decisions are based on data, not personal opinion. Review your
child's school records—including your child's three-year
evaluation report, current Individualized Education Plan (IEP),
discipline reports, progress reports, and report cards. These
provide important information that will help you make decisions
about your child's education.
2) Check out the written meeting notice you received. Does it
tell you who will be there and why you are meeting? If your child
will participate, for how long and is he or she prepared?
3) Have a written list of your priorities and concerns. Have them
put on the agenda if you would like.
4) If you want to discuss a problem at the IEP meeting, define
the issue clearly in your own mind. Bring ideas for solutions and
be willing to listen to the ideas of others. Avoid blame and focus
on ways to solve the problem.
5) Finally, keep in mind that teamwork creates better outcomes 
for children. You are the expert on your child. The school has
expertise in education. Together, you can help your child succeed
in school.